It's good for kids to know that it is ok to feel sad at times and that when they do, Jesus is there to comfort them!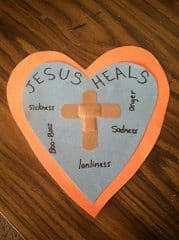 Colored paper
Scissors
Glue
markers, crayons
Band aids
1. Cut out two color hearts from paper
2. Glue the smaller heart on top.
3. Discuss with your child things that Jesus heals, like sadness, loneliness, anger, etc. and write these on the inner heart.
4. Then the fun part! Have your child place band-aids in the shape of cross or whatever they like on the hearts!
Know someone who is sad? Send them this cute butterfly Feel Better card!
paper (for the card)
band-aids
tissue paper
markers
1. Cut square pieces of tissue paper for the wings and fold accordion style.
2. Using a band-aid, attach the tissue paper wings to the card.
3. Draw a face and antenna on the butterfly and write a message to the person before sending!