God's House: Everybody's Welcome! Craft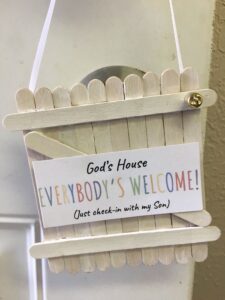 -glue gun (or Elmer's glue, tape)
1. Take 8-10 Popsicle sticks and glue side by side to make the gate.
2. Glue two Popsicle sticks horizontally and then a third diagonally (refer to picture)
3. Cut a piece of card stock paper to fit over the gate. Write on the paper: "God's House EVERYBODY'S WELCOME (Just check-in with my son)" and glue to the front of the gate.
4. Attach (with glue or tape) yarn to hang
---