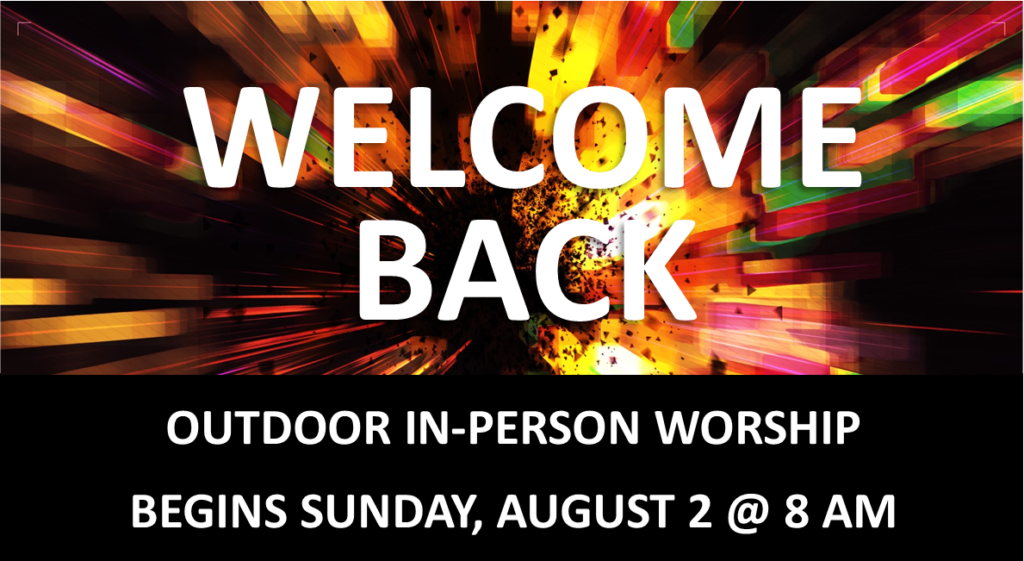 watch this informational video
Return to In-person worship
Our primary concern is to open safely! Our plan fulfills the requirements of the Virginia Conference Handbook provided by Bishop Lewis. The plan includes guidance from Center for Disease Control and Reopen Virginia Plan. Our Healthy Church Team has been meeting and looking through the various documents provided by the conference with regards to reopening.
Before considering in-person worship we remind everyone:
We will continue to our online 10 am worship service for the foreseeable future

Vulnerable (underlying medical conditions) are encouraged to continue to worship online.

Children are welcome to attend with a face covering if parents deem a child can wear the face mask the whole time

Only limited childcare is provided
Outdoor Worship: Sunday 8:30 am
Outdoor Worship will take place under the portico at 8:30 a.m. We will be using a portable sound system that will only be used by Pastor Stephanie. Small traffic cones will be used to designate where families and individuals may sit, distanced from others. This service includes Holy Communion taken together. Masks are required during the outdoor worship service.
FAQ- Frequently Asked Questions
What do I need to do prior to in-person worship?
NO Sign-up required: The Bishop has recently relaxed the capacity for outdoor worship to 250 people. Because of this, no sign-up is required to attend outdoor, in-person worship. REGISTRATION IS REQUIRED FOR LIMITED CHILDCARE which is provided during the outdoor worship service.
Will Childcare be provided during the outdoor in-person worship service?
Yes! Limited childcare will be provided for children 5 and under only. Children 6 and up can join the service with parents if parents deem the child can wear a mask for the whole worship service.
Please include your children when you sign-up for Sunday morning worship.

In the childcare areas, children will NOT be expected to wear face masks (unless of course you want your child to)

All childcare staff and volunteers will be required to wear a mask while in the building and must submit a health Acknowledgement Form prior to Sunday service.

All childcare rooms have been cleaned and sanitized per CDC guidelines. All toys and surfaces in each room will be sanitized prior to children attending and after all children have been picked up.

We have removed items from the childcare/nursery rooms, such as stuffed animals, fabric items, etc. to reduce as much risk as possible.

Hand sanitizer will be provided in each classroom for staff and children to use.

At this time, we will NOT be resuming Sunday School or Children's Church.

Children have access to designated children's bathrooms.

We will designate families to certain rooms each week per sign-up.

For more information, please see Limited Childcare Plan
What will the Childcare Check-in process look like?
Infants and Toddlers (up to 2 years) can be dropped off at the nursery after your family has had your temperature checked at the tent outside.

Parents are not permitted to enter the room.

You will NOT be able to drop off diaper bags. You may leave diaper bags in the hallway.

You may, however, drop off wipes and diapers in a ziplock bag marked with child's name.

PLEASE DO NOT bring anything else from home.

NO FOOD AND DRINK WILL BE PERMITTED IN THE ROOM. Bottles of milk and formula will be allowed for infants only.

For more information, please see Limited Childcare Plan

Children 3, 4 and 5 years old, parents can drop off at the Childcare Check-In after your temperature has been checked at the tent outside and parents have acknowledged the Health Poster.

Please keep 6 feet distance from other parents dropping off.

A childcare worker and/or volunteer will be there to escort children to the appropriate room.

Parents are NOT permitted to enter childcare rooms.

Please keep all jackets, toys, bags and personal belongings with you.

NO FOOD AND DRINK WILL BE PERMITTED IN THE ROOM.

Pick-up: When service is over, parents will check-in at Check-In desk and a childcare worker/volunteer will bring the child to the parent.

For more information, please see Limited Childcare Plan
What can I expect the day of worship?
Before you leave home:

Health check: Stay Home if you are sick!
Mask – Bring your mask with you.
Bring hand sanitizer with you.
Bring lawn/camping chairs or blankets for seating & if you have a beach umbrella (volunteers will setup a few folding chairs if people forget to bring their own seating)

Arriving for Worship:

Observe 6ft social distancing when exiting your car.

The playground will be CLOSED (The playground will be marked "closed" with the appropriate signage as well as marked off with caution tape)

Getting to the Check-in Tent:

Place your mask on your face prior to leaving your car.
Look for the Check-in Tent located next to the parking lot

If a line forms in front of the check-in tent you can wait in your car until the line lessens.

When waiting in line for the check-in tent please observe the Social Distancing cones/ chalk marks to ensure 6ft of distancing

At the Check-in Tent:

Health Acknowledgement Form – The form must be filled out each week prior to attending worship. We encourage you to fill it electronically via the link we will provide. In order to maintain confidentiality, the form will be reviewed and maintained by the Pastor only. *For those who do not submit the electronic form, a poster will be posted on the tent and each person must agree to the health poster. A greeter will record each person's name and contact information.
Temperature Checks – A Greeter will take your temperature. It must be below 100.4F to attend in-person worship.
A Greeter will direct each family/ individual to their circle

No handshaking or hugging.

Observe the restroom social distancing requirements.

Emergency bathroom is available in the Scout Hut

If you are checking in your child/ children for childcare, please go to the main entrance of the building. Children's Ministry Director, Carmen Colburn will check-in your child at the desk
Seating:

Social Distancing – Observe the "circle" designations to ensure that 6ft of social distancing can be maintained. Family units will be permitted to sit together

During Worship:

Wearing of Mask Required – Bring your mask with you as you will be required to wear it at all times including pastor and those leading worship. Parents will be responsible for deeming the child can wear the mask the whole worship. The family will sit near the exit.
No Congregational Singing – You may hum or say the words. The use of hymnals, bibles and shared materials will be suspended. All books and materials have been removed from the back of the pews and in the hospitality center.
Communion – At the edge of the parking lot near the garden, a table is set up with communion in prepackaged containers. (Masked/ gloved volunteers will setup the communion table to observe social distancing of communion elements). Observe social distancing when picking up communion elements from the table and partake in your car. Hand Sanitizer will be placed on the table, all are encouraged to use it prior to taking his/her communion elements.
Offering baskets will be available near the communion elements table. Please place your offering here as no baskets will be passed.

After Worship

:

Observe social distancing when leaving the parking lot.

We ask that worshippers please leave the church grounds and not engage in handshaking or hugging after the service.
What will the church do to enforce these requirements, rules, protocols, and guidelines?
In the event an attendee fails to follow these requirements, rules, protocols, and guidelines, including, but not limited to, the requirements for pre-worship self-monitoring, pre-registration, parking rules, facility use, and physical social distancing (stay 6 feet or more away from others), that attendee will be denied access and/or asked to leave. If an attendee refuses to abide by the rules after being asked to do so, the church must immediately end the service and send all attendees home. The person that violates the requirements, rules, protocols, and guidelines will not be allowed back on church property until he/she agrees to comply with all of the requirements, rules, protocols, and guidelines. The health and safety of our churches is the utmost priority, and ensuring everyone abides by the requirements, rules, protocols, and guidelines help protect everyone's health and safety.
What can I expect when I Volunteer?
We encourage those in the vulnerable groups (with preexisting or underlying medical conditions) to wait until Stage 3 to volunteer.

All volunteers will:

Complete a Health Acknowledgement form prior to volunteering.

Wear masks.

Observe social distancing requirements.

Practice healthy hygiene including hand washing with soap and water for 20 seconds will be encouraged, appropriately covering coughs and sneezes, and avoiding touching one's face. Hand sanitizing stations will also be set up.

Wear disposable gloves when deemed necessary (setting up communion, handling the offering, cleaning etc.)

If volunteers are not available, we will contact volunteer backup list to ask if they are willing to volunteer.

If we do not have the needed volunteers for that week

we will cancel the in person worship service

.
How is the Church being Cleaned?
Volunteers will clean & sanitize any chair used, door handles, bathrooms (if used) and the communion table per CDC guidelines

Childcare staff and volunteers will clean & sanitize any furniture, toys, items, and high contact surfaces in the childcare areas that were used

Our facility manager will be required to clean and disinfect all areas (e.g., offices, bathrooms, and common areas), focusing especially on frequently touched surfaces.

We will use special disinfecting products where appropriate.